Welcome
Check for advance tickets only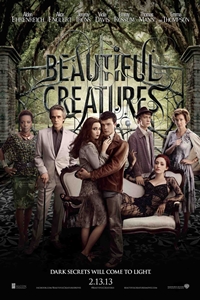 Beautiful Creatures
Opens 2/14/2013
Rated PG-13 for violence, scary images and some sexual material
A supernatural love story set in the South which tells the tale of two star-crossed lovers: Ethan, a young man longing to escape his small town, and Lena, a mysterious new girl. Together, they uncover dark secrets about their respective families, their history and their town. The film is based on the first novel in the best-selling series by Kami Garcia and Margaret Stohl.
Find Showtimes & Buy Tickets
Closed Captioning and Descriptive Video devices available by request at theater box office.
*Click on time to purchase tickets