Check for advance tickets only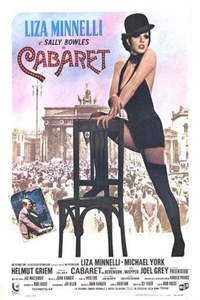 Cabaret
Opens 2/13/1972
Rated PG
Este drama musical se desarrolla en el Berlín de los años 30; en una época en la que el nazismo está asentado y gana adeptos día tras día. La capital alemana mezcla el amor, el baile, la música y el arte junto a la vida nocturna del ""Kit Kat Club""; el refugio mágico e íntimo de la joven Sally Bowles y el simpático maestro de ceremonias. Juntos, pretenden hacer olvidar la tristeza en la que están inmersas las vidas de los habitantes de este foco cultural en el que convergen ideales de todo tipo.
CAN'T FIND THE SHOW TIME YOU ARE LOOKING FOR?
We post new schedules on Tuesday evenings for Friday through the following Thursday. In some cases, advance tickets for future releases will be posted by date.
Closed Captioning and Descriptive Video devices available by request at theater box office.
Find Showtimes & Buy Tickets
*Click on time to purchase tickets