Check for advance tickets only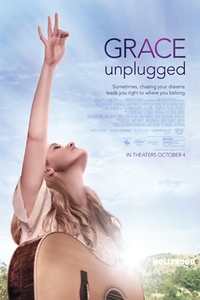 Grace Unplugged
Opens 10/4/2013
Rated PG for thematic elements and brief teen drinking
18-year-old Christian singer/songwriter, Grace Rose Trey is beautiful, highly talented and restless. Grace seems prepared to walk away from her Christian faith and music to achieve her long-suppressed fantasy of Hollywood superstardom. Will the experience cause her to reject her faith, or rediscover it?
CAN'T FIND THE SHOW TIME YOU ARE LOOKING FOR?
We post new schedules on Tuesday evenings for Friday through the following Thursday.
In some cases, advance tickets for future releases will be posted by date.
Closed Captioning and Descriptive Video devices available by request at theater box office.
Find Showtimes & Buy Tickets
*Click on time to purchase tickets