Check for advance tickets only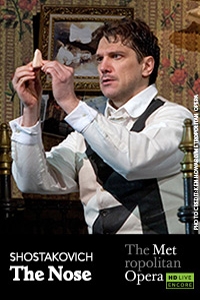 The Metropolitan Opera: The Nose ENCORE
Opens
Rated NR
NCM Fathom Events presents an encore performance of Shostakovich's The Nose in select cinemas on Wednesday, October 30, 2013 at 6:30 PM in all time zones. William Kentridge stormed the Met with his inventive production of Shostakovich's opera, which dazzled opera and art lovers alike in its inaugural run in 2010. Now Paulo Szot reprises his acclaimed performance of a bureaucrat, whose satirical misadventures in search of his missing nose are based on Gogol's comic story. Pavel Smelkov conducts.
CAN'T FIND THE SHOW TIME YOU ARE LOOKING FOR?
We post new schedules on Tuesday evenings for Friday through the following Thursday. In some cases, advance tickets for future releases will be posted by date.
Closed Captioning and Descriptive Video devices available by request at theater box office.
Find Showtimes & Buy Tickets
*Click on time to purchase tickets