Check for advance tickets only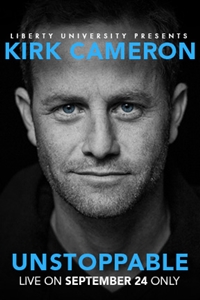 UNSTOPPABLE A Live Event with Kirk Cameron
Opens 9/24/2013
Rated NR
Join Kirk in his inspiring investigation into the moral origins of good and evil, their inspirational value and their historical significance to us today. UNSTOPPABLE promises to bring families and communities together with a big picture view of how we can live victorious lives in the face of adversity, changing our world for good. Broadcast LIVE from Liberty University, the evening will begin with special guest appearances PLUS a special introduction from Kirk, as he shares his heart for UNSTOPPABLE, which he calls his "most personal project ever."

CAN'T FIND THE SHOW TIME YOU ARE LOOKING FOR?
We post new schedules on Tuesday evenings for Friday through the following Thursday. In some cases, advance tickets for future releases will be posted by date.
Closed Captioning and Descriptive Video devices available by request at theater box office.
Find Showtimes & Buy Tickets
*Click on time to purchase tickets