Check for advance tickets only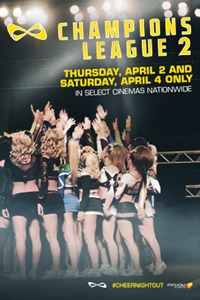 Nfinity Champions League 2
Opens 4/2/2015
Rated NR
Fathom Events and the Nfinity Champions League are thrilled to bring the ultimate cheerleading competition back to the big screen in select cinemas nationwide on Thursday, April 2 and Saturday, April 4. Building on its larger-than-life 2014 debut, the Nfinity Champions League makes its highly-anticipated cinematic return for its second annual #CheerNightOut. Captured in Los Angeles and broadcasted nationwide, this magnetic event showcases the athleticism, strength and showmanship of 30 of the country's most decorated cheerleading teams as they unite for a defining competition and fight to be named the Grand Champion.
CAN'T FIND THE SHOW TIME YOU ARE LOOKING FOR?
We post new schedules on Tuesday evenings for Friday through the following Thursday. In some cases, advance tickets for future releases will be posted by date.
Closed Captioning and Descriptive Video devices available by request at theater box office.
Find Showtimes & Buy Tickets
*Click on time to purchase tickets