Check for advance tickets only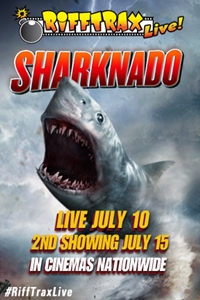 RiffTrax Live: Sharknado ENCORE
Opens 7/15/2014
Rated NR
Fathom Events, The Asylum and RiffTrax.com® are ecstatic to bring the stars of Mystery Science Theater 3000® (MST3K) back to select cinemas nationwide for a hilarious never-before-seen take on the viral B-movie sensation, Sharknado, LIVE Thursday, July 10 at 8:00pm ET/ 7:00pm CT and tape-delayed to 7:00pm MT/ 8:00pm PT AND rebroadcast Tuesday, July 15 at 7:30p.m. (local time). This two-night event will be your ONLY chance to see the guys fire their wisecracking commentary at Sharknado.
CAN'T FIND THE SHOW TIME YOU ARE LOOKING FOR?
We post new schedules on Tuesday evenings for Friday through the following Thursday. In some cases, advance tickets for future releases will be posted by date.
Closed Captioning and Descriptive Video devices available by request at theater box office.
Find Showtimes & Buy Tickets
*Click on time to purchase tickets