Check for advance tickets only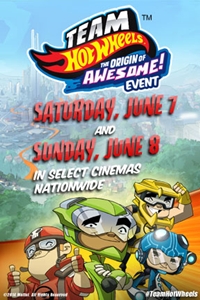 Team Hot Wheels: The Origin of Awesome Event
Opens 6/7/2014
Rated NR
Fathom Events and Mattel are amped to put the pedal to the metal and bring Team Hot Wheels® new band of characters to select cinemas nationwide on Saturday, June 7 and Sunday, June 8. Join Gage, Rhett, Wyatt and Brandon, as they take on a mysterious black car who is transforming their sleepy town of Hilly Woodlands into a chaotic mess. PLUS get a first-hand look under the hood at how Team Hot Wheels® was brought to life.
CAN'T FIND THE SHOW TIME YOU ARE LOOKING FOR?
We post new schedules on Tuesday evenings for Friday through the following Thursday. In some cases, advance tickets for future releases will be posted by date.
Closed Captioning and Descriptive Video devices available by request at theater box office.
Find Showtimes & Buy Tickets
*Click on time to purchase tickets