Welcome
Check for advance tickets only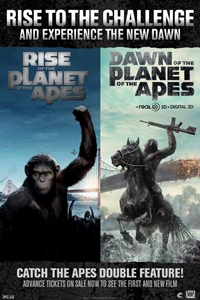 Apes Double Feature
Opens 7/10/2014
Rated PG-13
RISE to the challenge - and experience the new DAWN - with a special "Apes" double feature on Thursday, July 10. See RISE OF THE PLANET OF THE APES at 7pm and then be among the first to see DAWN OF THE PLANET OF THE APES, in 3D, all for one price. Both films are rated PG-13.
Find Showtimes & Buy Tickets
Closed Captioning and Descriptive Video devices available by request at theater box office.
*Click on time to purchase tickets