Welcome
Check for advance tickets only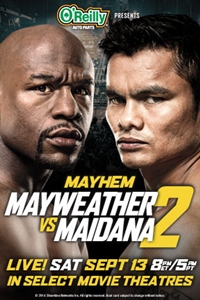 Mayhem: Mayweather vs Maidana
Opens 9/13/2014
Rated NR
Fathom Events, O'Reilly Auto Parts, Mayweather Promotions, Golden Boy Promotions and Showtime bring you the highly anticipated rematch between eleven-time world champion Floyd "Money" Mayweather and the dangerous, power-punching Marcos "El Chino" Maidana. After their thrilling fight earlier this year, which left sports fan clamoring for more, the two prizefighters will face each other again when Mayhem: Mayweather vs. Maidana 2 is broadcast LIVE from the MGM Grand in Las Vegas to select movie theaters nationwide on Saturday, September 13 at 8:00 p.m. ET/5:00 p.m. PT.
This exciting rematch will undoubtedly test the skill and will of both fighters in this electrifying showdown that is set to finish that which was started the first time they met. Despite the brutal nature of their first meeting, Mayweather has chosen to give Maidana a chance to redeem himself and rightfully earn a victory against the undefeated champion by facing off in a rematch that is sure to bring mayhem to the ring!



Find Showtimes & Buy Tickets
Closed Captioning and Descriptive Video devices available by request at theater box office.
*Click on time to purchase tickets