Check for advance tickets only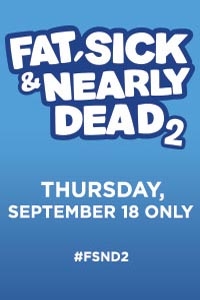 Fat, Sick & Nearly Dead 2
Opens 9/18/2014
Rated NR
Fathom Events, Reboot with Joe and Gravitas are thrilled to bring Joe Cross's new documentary Fat Sick and Nearly Dead 2 to select cinemas on Thursday, September 18 in a special one night event. In 2010, Joe Cross took viewers on his journey from overweight and sick to healthy and fit via a 60-day juice fast in the award-winning Fat Sick and Nearly Dead. And now he's back with Fat, Sick & Nearly Dead 2, where Joe examines how to make healthy habits last for the long-term, and how lifestyle choices impact overall health. Throughout this story, Joe meets with experts who present realistic solutions and viable strategies to make and maintain long-term sustainable improvements to eating.
CAN'T FIND THE SHOW TIME YOU ARE LOOKING FOR?
We post new schedules on Tuesday evenings for Friday through the following Thursday. In some cases, advance tickets for future releases will be posted by date.
Closed Captioning and Descriptive Video devices available by request at theater box office.
Find Showtimes & Buy Tickets
*Click on time to purchase tickets