Welcome
Check for advance tickets only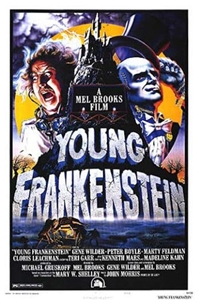 Young Frankenstein (Original Showing)
Opens 12/15/1974
Rated PG
The grandson of Victor Frankenstein has spent his life living down the legend of his grandfather. When he discovers his grandfather's diary, he begins to feel differently, and returns to the family castle to satisfy his curiosity by replicating his ancestor's experiments. In the process, he creates one very unique monster.
CAN'T FIND THE SHOW TIME YOU ARE LOOKING FOR?
We post new schedules on Tuesday evenings for Friday through the following Thursday.
In some cases, advance tickets for future releases will be posted by date.
Closed Captioning and Descriptive Video devices available by request at theater box office.
Find Showtimes & Buy Tickets
*Click on time to purchase tickets