Welcome
Check for advance tickets only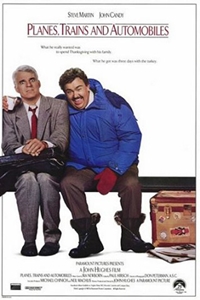 Planes, Trains & Automobiles
Opens 11/25/1987
Rated R
Two days before Thanksgiving, marketing consultant Neal Page races to catch a plane home to Chicago, only to find that his flight has been delayed. Hours later, he boards the plane and ends up next to obnoxious salesman, Del Griffith.
CAN'T FIND THE SHOW TIME YOU ARE LOOKING FOR?
We post new schedules on Tuesday evenings for Friday through the following Thursday.
In some cases, advance tickets for future releases will be posted by date.
Closed Captioning and Descriptive Video devices available by request at theater box office.
Find Showtimes & Buy Tickets
*Click on time to purchase tickets